Learn More About Pilates from Expert Instructor, Christy Cater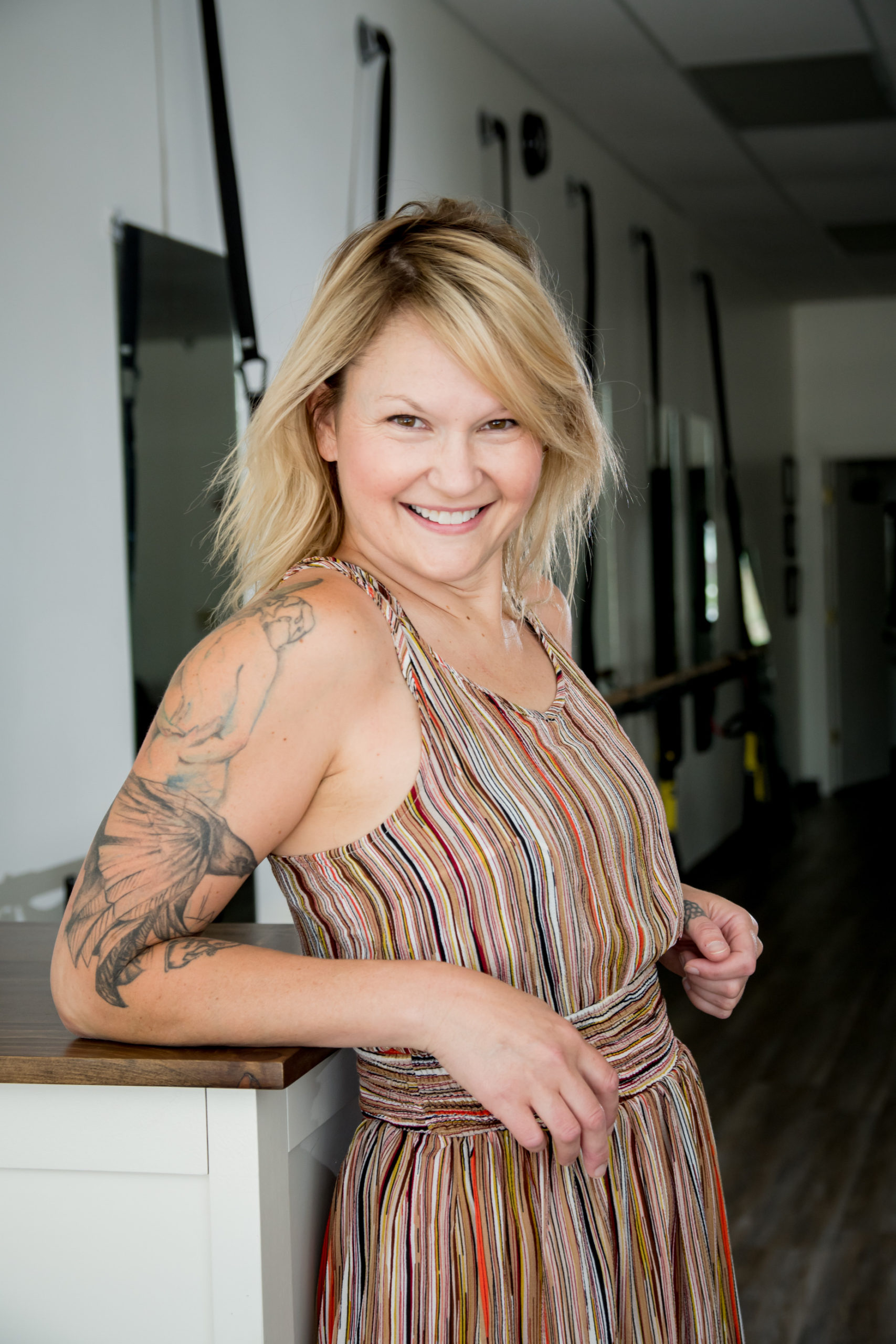 Christy Cater is a Pilates Instructor, Certified Health & Life Coach, IFS therapy practitioner, ELDOA Spine Specialist, & Studio Owner focused on helping individuals transform their relationship to their body and mind so they feel confident in their own skin and in control of their life. As someone thriving with T1 Diabetes for over 37 years, Christy Cater is a true master of powerful habit change. She has great compassion for anyone living with chronic illness, injuries or pain. Her former career as an arts educator in Kansas City Schools has helped her develop a refined understanding that our life is truly an art, and we are capable of sculpting it (and ourselves) into a masterpiece. Having grown up in a family of obesity, diabetes, and chronic illness, Christy's thirst for a happier, healthier life led her the path of radiant wellness. Her mission is to educate and empower others to step on the journey to optimal health so you can live your best life now, inside and out! Passionate about education, Christy holds multiple certifications including:
Certified Health & Life Coach from the Health Coach Institute accredited from the International Coaching Federation.

Certified ELDOA Spine Specialist

Certified Comprehensive Classical Pilates instructor
Certified Barre – Thrive Barre
Certified TRX – Vault Fitness
Some Frequently Asked Questions About Pilates
What is Pilates
Pilates is a form of no impact strength training exercise that specifically targets the abdominal and back muscles (called the core). Pilates helps people increase their strength, flexibility and stamina while helping to reduce inflammation, pain and stiffness in the body. Pilates can be done on a yoga mat or it can be done with supportive equipment created by Joseph Pilates, the creator of Pilates.
Who is Pilates best for?
Joseph Pilates said, "every body is a Pilates body". Pilates is something that can be super gentle and stretchy or it can be really challenging depending on your strength, flexibility, age and many other factors. In a solo or a group equipment class, there will be a few similar moves but at Mindful Evolutions, we teach the kind of class we want to take so there is something new or different every single time you visit. We learn your body and help you make every workout the very best for your body every time. There are no limits to who can do Pilates but it's best suited for men and women ages 16 and beyond. Many people 40's and above love the way they get to feel strong without heavy cardio or impact workout.
Is Pilates different than yoga?
Yes. Pilates is different than yoga. Yoga and Pilates are similar in that they both utilize your own body weight as leverage and they both help you connect total body- mind, body, breath, movement. Yoga is only done on a mat, sometimes with simple props or a wall. Pilates can be done on the mat with simple props or on different types of machines called: The Reformer (literally meant to "reform" the body), the Cadillac, the Tower, The Chair, The Barrel or Arc and many others. Unlike other forms of exercises where you may repeat several sets or repetitions, Pilates rarely repeats sets and you rarely do more of 8 or 10 of any exercise. That means your body gets a total workout and you are never bored doing the same things over and over. Yoga leans more towards flexibility and specific poses, Pilates leans more towards core strength and feeling specific groups of tiny muscles that support the big ones. Yoga has been around for centuries and may sometimes have a spiritual tie to it, Pilates was created by Joseph Pilates, originally called, "Contrology" in the early 20th century and is strictly a form of exercise with no religious ties. Like Yoga, Pilates can benefit men and women.
How do I get started?
We're so glad to meet you! Most people start with 2 Intro to Pilates Solo visits (special $91 for both visits) where we work 1:1, just you and your instructor as you try out all the different types of equipment and exercises at your pace and get to experience what an impact Pilates can be for you. All solos and classes are 55 minutes each. Call or text Christy at 816-805-9366 to make an appointment and get started!
How long are classes, solos and duets?
Every class, solo and duet is 55 minutes long.
What do I wear to class?
Anything you feel comfortable in. Yoga pants, tights, sweatpants, bike shorts, t-shirts, tank tops, sports bras and sweatshirts are all good. Men, it's a great idea to wear bike shorts under your gym shorts. Women, it's a great idea to wear pants that aren't see through. Socks are optional. Shoes are not worn on the equipment or mats unless you have an injury that makes it necessary.
What happens in a group equipment Pilates class at Mindful Evolutions?
We almost always start on the Reformers in a unique stretch series that your body will begin to know, love and crave after you try it. It is completely modifiable so if you think, "I'm not flexible so I won't be good at it," you are incorrect. People who struggle with flexibility (and those who are very flexible) love this series especially because they get to let the Reformer do all the work for them with very little effort. It's so relaxing and gentle. After that stretch series which takes 10-15 minutes we get started! If you're signed up for the class that is All Levels Group Equipment, we will be on the various pieces of equipment throughout the rest of the hour doing different exercises that the instructor leads you through every step of the way. This class is a moderate pace and may have people of different ages, sizes, abilities and it could include both men and women. Nervous or unable to do the move? No worries, the instructor will give you lots of options to modify or do the move in a way that feels great for your body so you never have to feel pressure or shame for being different. One of our greatest strengths at Mindful Evolutions is to celebrate that every body has a story and that isn't something to keep you from feeling your very best. We are beside you every step so you aren't held back by your body, you're empowered by what it can do! Want a gentler class with a slower pace but still lightly challenging? The Light/Gentle Class is a favorite for those who want to feel strong, tight, tone, flexible at a slower pace without the intermediate or advanced exercises. Every Pilates class has a maximum of up to 6 people.
What is TRX Pilates?
TRX Pilates is a fast paced, low/no impact Pilates Mat+Cardio class where we used suspension straps and sometimes other fun props to get a great, sweaty heart pumping workout with the tunes turned up all the way. This class is fun, intense, has regular people in their 20's, 30's, 40's and 50's and is only offered on Saturday mornings at 8a with only 5 spots available. You will not believe how great you feel after this class for the rest of your day!
What if I have an injury or chronic pain, can I still do Pilates?
Yes! Because we are a small, intimate studio and our instructors are comprehensively trained in the body systems, we can help you get the best workout possible even with c-sections, hip, knee and shoulder replacements, spinal/disc issues, planter fasciitis, kyphosis, cancer, diabetes, heart issues, arthritis, chronic pain, weight related issues and more. Unlike other forms of exercise, Pilates is no/low impact and works your body without the extra burden of gravity. Most exercises in Pilates are done lying down or sitting. And it will surprise you at how much you can actually do without ever leaving the mat!
What's the cancellation policy?
We hate to miss you but know that things come up. If you join a class, your spot is reserved for you. If you cancel anytime before 12 hours to class time, your credits go back on your account for another time. If you cancel in less than 12 hours before class time, your credits are not refunded. If you aren't sure if you've signed up, go to your dashboard in the Mindful Evolutions system and click the button that says, "my bookings". This is also where you can hit "cancel" if you need to. We pride our small business on intimate, personalized workouts unlike anything else and having you invest in your body and your future through Mindful Evolutions isn't taken lightly. We appreciate you! So respectfully, we ask that if you cannot make the class you signed up for, please cancel so someone else can have your spot. With only 6 spaces available in any class, it means a lot if someone gets the chance to workout if you cannot be there. If there is a class you want to join but it says "full, join waitlist?" Please do! The system will notify you when/if someone cancels and then you can log in and join to reserve your spot.
What if I'm overweight, can I still do Pilates?
Yes! Christy, owner of Mindful Evolutions started her Pilates journey after 2 major c-sections. Her first child was 11 pounds, 13 ounces at birth and her second was 13 pounds, 4 ounces at birth and gained 80 pounds with each. She also has survived and thrived with Type 1 Diabetes for 40+ years! The Pilates equipment is so supportive and can support men and women who are up to 500 pounds and who are 4' to 7' tall.
Do men do Pilates?
Yes! Joseph Pilates was a man who created this method of exercise to help everyone but worked with only men first. Later on in his life he started working with women and specifically dancers which began to "skew" the belief that this was only a women's workout. Mr. Pilates was no stranger to showing off his "Pilates" body as he was working out well into his 80's, passing at the age of 85.
What can I expect to feel after one Pilates class? What can I expect to feel after 10 Pilates classes?
After one class, you're going to feel your abs like never before. You may or may not have sweat or got your heart rate up into a cardio level because Pilates is much more targeted for building muscles, especially the smaller muscles that support the big ones and burning fat. You will feel taller and like you worked your entire body from the inside out. After 10 Pilates classes at Mindful Evolutions, you may have gone done a pant size or two, feel stronger, more flexible, feel like you have more energy, feel excited about what your body can do and feel like you've found your greatest mindful evolution.
I'm looking in the webshop and trying to purchase my first package. The system says "purchase credits to get started", what's that?
Our system works on credits. It's kind of like tokens.
One credit is $6.50.
A group equipment class is $26 or 4 credits ($6.50×4= $26).
A Pilates TRX class is $13 or 2 credits ($6.50×2 = $13).
A regular solo is 10 credits or $65 ($6.50×10 = $65).
A duet is 12 credits or $78 ($6.50×12 =$78).
An Intro to Pilates solo (and only for beginners who are doing the 2 Intro to Pilates Solos) is 7 credits or $45.50 per visit.
Credits/Packages are good for 1 year from date of purchase. Credits can be purchased in packs of 10, 25, 40, 50 and 100 in the Mindful Evolutions system. Simply click the button that says "webshop" and then "packages". When you find the one you want to purchase, click "view" and then click the little box of "terms and conditions" as well as the big blue checkout button. The system will walk you through the process to use your credit card to purchase. The credits will be automatically deducted from your account when you "join" a class. The credits will be automatically put back on your account when you cancel with 12 hours or more notice.
Do you have a monthly membership subscription?
No, you only are charge for the credits you actually use by joining a class. Buy what you want, when you want, use when you can. No pressure to worry about a monthly subscription fee!
What is the difference between a group class and a solo?
A group class is no more than 6 people (so you still get that intimate feeling of a solo) and a solo is just one person in the entire space. Most people who have never done Pilates start with 2 Intro to Pilates Solos for $91 total. That way you get to try all the equipment at your pace and see what an impact Pilates can be for your body. After that, some people do group classes, some do solos and some do a combination of both.
How do I set up a solo?
Text or call Christy at 816-805-9366.
What training do the instructors have?
Comprehensive 600 hour Pilates Complete Systems Certification from Classical Pilates Education. This extensive training is of only ten schools in the world certified to teach Pilates at this highest standard. ELDOA systems for the spine training by Osteopath Guy Voyier. Health and Life Coaching Certification by The Health and Life Coaching Institute. TRX Suspenstion Certification by Classical Pilates Education. IFS Level 1 Practitioner Certification by IFS Institute, Dick Swartz.
What if I'm not able to do some of the moves?
We remember what it's like to be a beginner and there is never any pressure to do anything. We like to break exercises down in bite sized "options" so you can always choose to push yourself or not. This is your workout and we want you to walk out the door feeling great, not ashamed or frustrated that you didn't do something right. Coming to Pilates at Mindful Evolutions is a big investment in your time, energy and body and we want to make sure you love it as much as we do.
What if I'm "bad" at Pilates?
If we decided to go do 20 jumping jacks for a workout, we'd all know exactly how to do them because we've been jumping jacks since we were little. Most of us haven't been around Pilates and there's a lot of videos and instructors out there calling anything and everything "Pilates". It can be confusing so that's why we make sure and explain the exercises, where you will feel it in your body and how to get the most out of your time in every class. Just by coming to class, you're already winning at Pilates and because there is no more than 6 people in any class and you're never going to feel like you're lost in the crowd. It will feel like walking into a warm house that welcomes all of you every single time.
What if I'm in love with Pilates, how many classes a week can I take?
We love enthusiastic, dedicated people who want to take 6 classes a week but it's not a great idea. Every class is different and will challenge your body in a new and exciting way. However, your body will be using smaller, deeper and more supportive muscles along with big ones, and you will feel differently than you do in any other form of exercise. Giving your body rest in between days is how you will recover best and build the best muscles and flexibility. On our in between days we go for a walk, stretch, work in the garden, play with our dog and enjoy what our body can do for us. We recommend 3 classes a week but 2 is great too. You will even see a benefit from one class a week!
What if I'm over 60, can I still do Pilates?
Absolutely! In fact, the majority of our clients are 50-70 years old. If you prefer a more intense workout (with the option to modify the intensity of any exercise), the class labeled "All Levels Equipment Pilates" is perfect. If you prefer a lighter/gentler Pilates class that's just that- lighter but still challenging and a little more stretching then we recommend the class labeled "Light/Gentle Pilates". After your first 2 Intro to Pilates, we'll work with you to explore what fits your body and goals best.
Why is Pilates recommended by doctors?
Pilates is the safest, most effective way to move your body. It targets the trunk of the body called the "core" which is from shoulder to shoulder, hip to hip, front to back and everything in between. Physician's recommend Pilates because it's so gentle and effective for the body. It helps people in ways other forms of exercise cannot. It doesn't require you to hold long poses, do extensive reps or "max out" anything. It's safe and easy to modify for what's best for your body. We love it so much, doctor's love it and know you will too.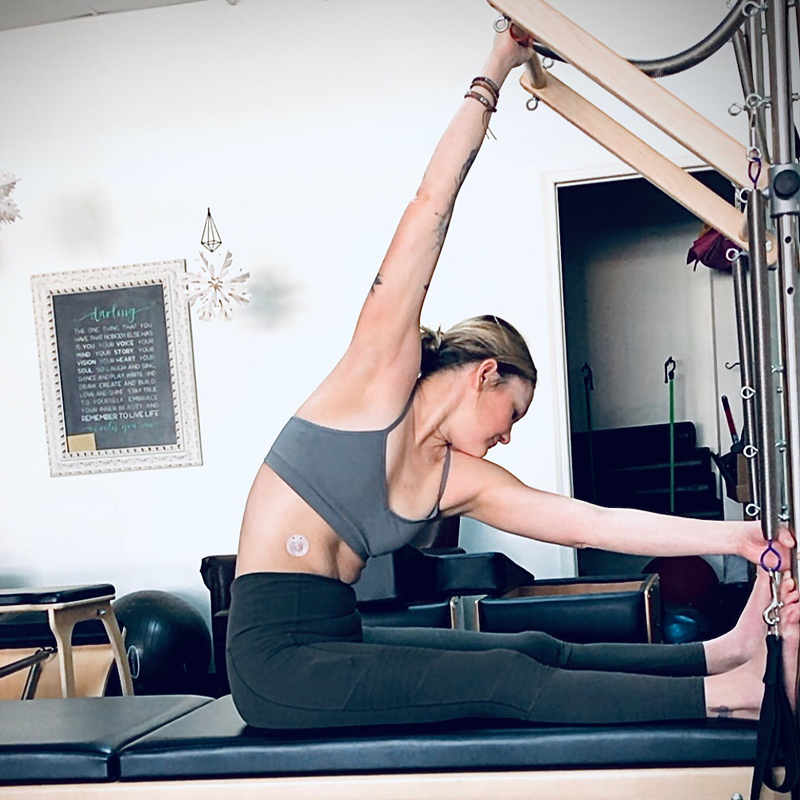 When you make positive choices, it emerges. 
When you master the right daily habits, everything aligns.
Are you ready to be the best version of yourself?
Customized Instruction For Every Student
At Mindful Evolutions we provide every student the opportunity to get personalized attention and the individual support you need, so you feel strong, capable, uplifted and transformed in every session.
Our goal is to give you the tools and techniques to cultivate harmony and balance within your entire being so can you step into the complete alignment of your body, mind, and spirit.
It's time to take back your life and start thriving!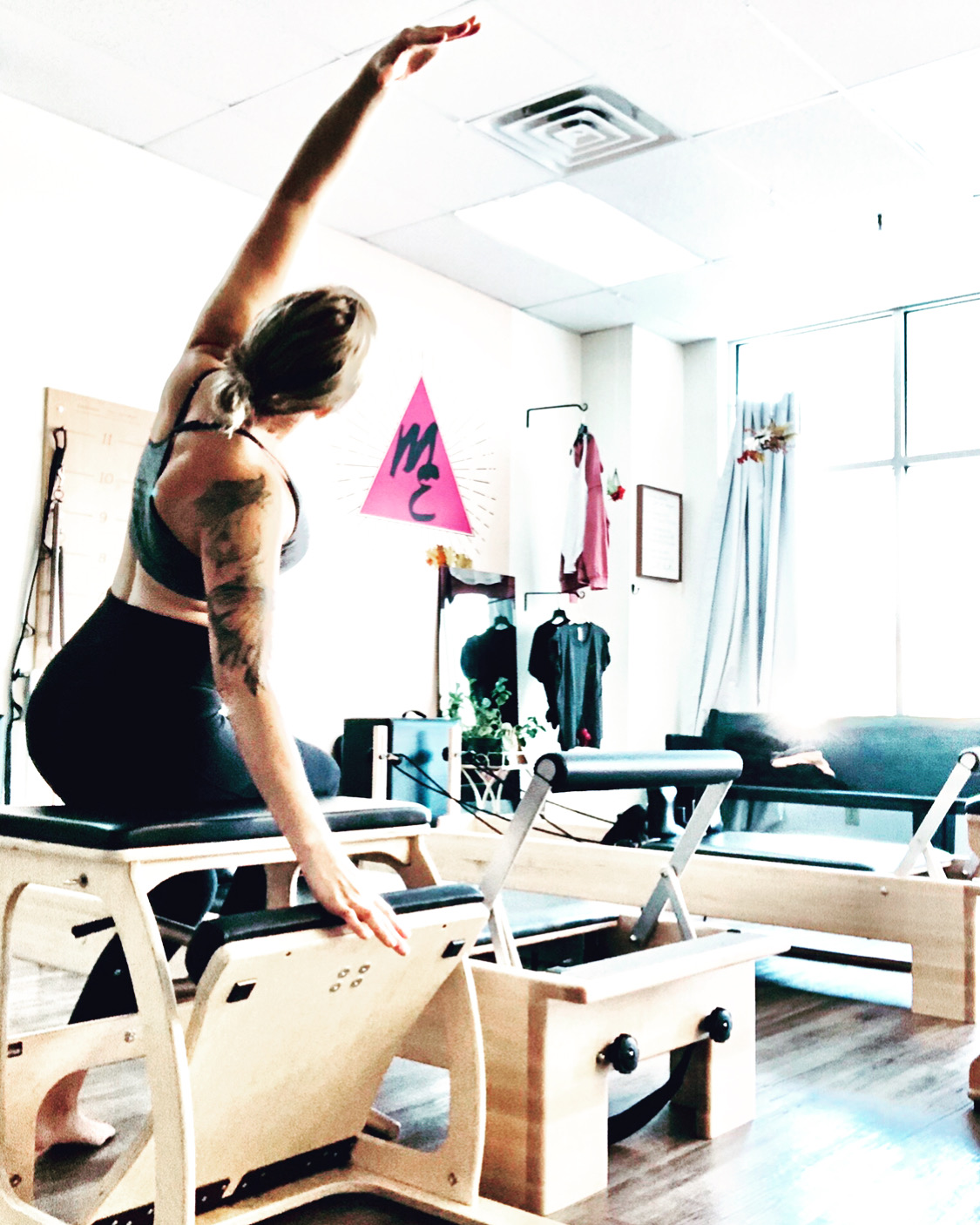 "When I signed up for the Group Coaching class, I honestly had no idea what to expect.  I thought it would be all about the right & wrong things to eat, the specific exercises to do to get in better shape, etc.  While I have learned a LOT about nutrition & exercise, the biggest takeaways from my first 12 week session is more on the psychology of my behavior, the "why" about my eating, procrastination, self-sabotage, over-scheduling, & even clutter in my environment.  
Christy has motivated me, encouraged me, questioned me, inspired me, coached me, and so much more.  Quite honestly, this class & Christy have changed my life for the better!  I like to tell people who ask me, "What kind of coaching class are you taking?" that she is helping me get my shit together.
I've dealt with (and not been to concerned about) being overweight my entire adult life.  I've had problems with clutter in my home (still working on this–it's a process).  I have often times felt out of control when it comes to eating certain foods, sweets in particular, & I now have learned that I'm trying to comfort myself and feel safe by doing so.  I never would have made that connection without help.
Since starting the class with Christy, I have lost over 15 pounds, dropped several inches from my measurements, & built a lot of muscle through Pilates.  I've seen so much improvement & felt so much better that I signed up for another coaching class with her.  I realize that I AM worth the time, effort, & money.  I love the comments from my friends & family about how healthy & strong I look.  Most of all, I love feeling more in control of my own life.  
I cannot recommend Christy and her coaching enough.  If you have been struggling in any area of your life, whether it's weight, food, lack of exercise, clutter, self-discipline, etc this is a great way to reclaim your life and your health.  Every session has been eye-opening.  I've had major Aha moments in many parts of my life and I have her to thank for helping me see them.  For me, it was simply time to do something about it and I hope you will too."